Yokohama iceGUARD studless iG50 PLUS
The ultimate ice-grip with fuel-saving property.
Applications
Compact cars
Sporty hatchbacks
Benefits
Extreme ice grip
Fuel Saving
Long-life grip
Feature
Super Water Absorptive Compound
iG50 Asymmetric tread design
Triple 3-D Dimple Sipes 
Low-Heat-Generating Under Tread
Anti Energy-Loss Profile
Technology
Tread Compound
The layer of water above the ice is the biggest contributor to loss of traction. It causes 'micro hydroplaning' on icy surfaces. A traditional rubber rides on the surface water because the thickness of the layer of water in the -6 to 0°C zone becomes more than the normal undulations of the tyre surface can manage to work effectively. YOKOHAMA´s original SUPER WATER-ABSORPTIVE COMPOUND technology can put the tyre in contact with the actual ice by removing water with powerful absorbent compounds.
Absorptive Balloon
Removes Water film from the ice surface by its cavity shape. Delivers micro edge effects on the ice surface by its hard shell. Keeps tread-block solid by its hard shell construction.
Absorptive White Gel
Removes water film from the ice surface by a suitable undulation for the tyre surface delivered by its flexible property.
Tread Pattern and Construction Technologies
Anti Energy-Loss Profile
Delivers a fuel saving performance and stability by controlling a deflection of the tyre.
Asymmetric Tread pattern design
Inner zone, an effective tread pattern area for ice performance, has more actual contact area and more sipes than outer zone in order to maximize the friction and edge effects on ice surface.
Triple 3-D dimple sipes / Triple 3-D sipes
2 types of original 3-dimension shaped sipes are varied to get suitable effects and balances on each tread area. The surfaces of 3-D sipes avoid uneven deflection of blocks by supporting each other. It delivers excellent ice and snow performance with its maximized actual contact area and edge effects.
Belted Blocks
The belted blocks with a large, wide, centralized block design improve the braking stability as well as the performance on wet, dry and icy road surfaces.
Micro Diagonal Sipes
Deliver optimum performance even without a break-in period. Outer zone, an effective tread area for snow performance, has more grooves in order to maximize the traction and edge effects on snow surface.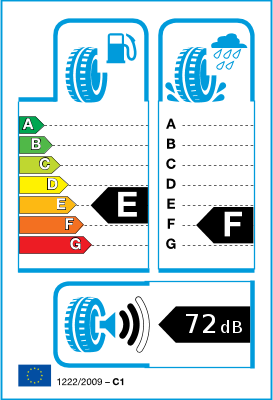 EU Tyre Label and Efficiency Classes
The European Union, under CE 1222/2009, has mandated that all tyres manufactured after the date of July 1 2012 for cars and commercial vehicles include standard EU Tyre Labels classifying them by three performance characteristics:fuel efficiency classified from A to G,wet grip classified from A to G, and noise emission in decibels.
Categories of tyres unaffected by this regulation include: retreaded tyres, professional off-road tyres, racing/sports car tyres, as well as certain types of tyres designed to improve traction such as studded tyres, T-type temporary spare tyres, tyres for cars built before 1990, tyres with a maximum allowed speed of 80km/h, tyres for rims with a diameter less or equal to 254 mm or greater or equal to 635 mm.
This label is intended on one hand to promote economic and ecological efficiency in traffic, as well as increase road safety, and on the other hand to help consumers select appropriate tyres by ensuring a certain degree of product transparency.
Nevertheless, the label has been criticized for only showing a very limited number of characteristics. Professionals argue that tyres have many more features that are important and relevant to road safety, including but not limited to aquaplaning properties, driving stability, service life, product properties on wet and dry roads other than wet grip, properties on snow.
Tyre manufacturers suggest that the test results from various institutions and industry magazines should remain a very important source of information for the end consumer, because they focus on and rate a wide variety of tyre properties and features.