Comfort-Life 2 - The reliable. Reach new heights in comfort.
For compact and medium range cars.
The Comfort-Life 2. Experience nature from every angle. Handle the highs and lows with ease. An excited departure – a relaxed arrival. With the Comfort-Life 2 from Semperit. For compact and medium range cars. The Semperit quality, provides maximum safety, even under tough conditions. Comfortable and quiet running. Rated as "good" in the ADAC Motorwelt in their summer tyre test 2014 for the size185/60 R 15 H.
Comfortable and quiet running
Optimised handling characteristics
High aquaplaning safety
Comfortable and quiet running. Comfortable driving and constant quiet running in all driving situations by shifted block structure in the shoulders and tread centre. Effect: Optimized contact between tread-blocks and road. Frequency peaks are distributed equally, thereby creating a constantly low noise level.
Optimised handling characteristics.Safe on straight and extremely curvy roads through optimised stiffness distribution in the ribs in combination with inclined block edges. Effect: Improved transmission of transverse and longitudinal forces.
High aquaplaning safety.High aquaplaning safety and short braking distances on wet surfaces by optimised groove shape. Effect: Efficient water dispersion.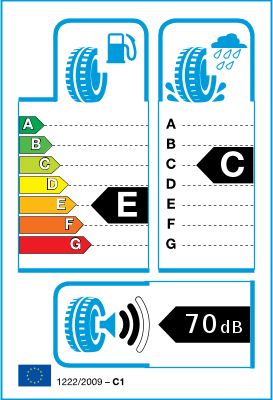 EU Tyre Label and Efficiency Classes
The European Union, under CE 1222/2009, has mandated that all tyres manufactured after the date of July 1 2012 for cars and commercial vehicles include standard EU Tyre Labels classifying them by three performance characteristics:fuel efficiency classified from A to G,wet grip classified from A to G, and noise emission in decibels.
Categories of tyres unaffected by this regulation include: retreaded tyres, professional off-road tyres, racing/sports car tyres, as well as certain types of tyres designed to improve traction such as studded tyres, T-type temporary spare tyres, tyres for cars built before 1990, tyres with a maximum allowed speed of 80km/h, tyres for rims with a diameter less or equal to 254 mm or greater or equal to 635 mm.
This label is intended on one hand to promote economic and ecological efficiency in traffic, as well as increase road safety, and on the other hand to help consumers select appropriate tyres by ensuring a certain degree of product transparency.
Nevertheless, the label has been criticized for only showing a very limited number of characteristics. Professionals argue that tyres have many more features that are important and relevant to road safety, including but not limited to aquaplaning properties, driving stability, service life, product properties on wet and dry roads other than wet grip, properties on snow.
Tyre manufacturers suggest that the test results from various institutions and industry magazines should remain a very important source of information for the end consumer, because they focus on and rate a wide variety of tyre properties and features.