Nokian Line SUV - Tough Wet Performer
Driving comfort, durability, and versatile performance for small and medium-sized SUVs. Nokian Line SUV summer tyre for varied SUV use of­fers pleasant comfort, high performance and firm wet grip. It is the correct choice for drivers who value safe driving but also who want to enjoy the power of their SUVs on rough roads and in urban traffic alike. The du­rability of tyre is improved by Nokian Aramid Sidewall technology. The sidewall compound includes extre­mely durable aramid staple fibre which stiffens and reinforces the sidewall allowing it to better withstand surprising impacts and cuts. Nokian Line SUV tyre has also excellent wet grip and aquaplaning prevention properties.
ARAMID REINFORCED STRUCTURE FOR UNIQUE DURABILITY
FIRST-CLASS COMFORT, PERFORMANCE, AND FUEL EFFICIENCY
EXTREME SAFETY FOR WET ROADS
Effective aquaplaning prevention: The shoulder areas have trumpet grooves, bullet-type indentations that have been optimised for flow; they store water from between the tyre and the road, accelerating its flow from the main grooves towards the transverse grooves and maximising grip.
Durability and protection for surprising situations: The aramid fibre stiffens and strengthens the sidewall rubber to withstand external impacts and pressing against the wheel flange.
Better handling stability, safety for wet roads: The outermost longitudinal ribs in the centre area are dominated by the deep diagonal grooves that open at one end and stabilise handling.
ARAMID SIDEWALLS – Robust like never before
Nokian tyres with Aramid sidewall technology offer you additional security and durability for demanding weather conditions and rough roads. Their incomparably strong sidewalls are exceptionally resilient to wear and cuts. The Aramid fibres stiffen and strengthen the sidewall, enabling it to withstand blows and cuts even better.

The same material is also utilised in the aviation and armour industries. It is also used successfully in bulletproof vests.

Aramid protects the Nokian tyres. The Nokian tyres protect lives.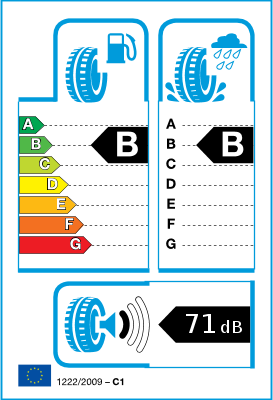 EU Tyre Label and Efficiency Classes
The European Union, under CE 1222/2009, has mandated that all tyres manufactured after the date of July 1 2012 for cars and commercial vehicles include standard EU Tyre Labels classifying them by three performance characteristics:fuel efficiency classified from A to G,wet grip classified from A to G, and noise emission in decibels.
Categories of tyres unaffected by this regulation include: retreaded tyres, professional off-road tyres, racing/sports car tyres, as well as certain types of tyres designed to improve traction such as studded tyres, T-type temporary spare tyres, tyres for cars built before 1990, tyres with a maximum allowed speed of 80km/h, tyres for rims with a diameter less or equal to 254 mm or greater or equal to 635 mm.
This label is intended on one hand to promote economic and ecological efficiency in traffic, as well as increase road safety, and on the other hand to help consumers select appropriate tyres by ensuring a certain degree of product transparency.
Nevertheless, the label has been criticized for only showing a very limited number of characteristics. Professionals argue that tyres have many more features that are important and relevant to road safety, including but not limited to aquaplaning properties, driving stability, service life, product properties on wet and dry roads other than wet grip, properties on snow.
Tyre manufacturers suggest that the test results from various institutions and industry magazines should remain a very important source of information for the end consumer, because they focus on and rate a wide variety of tyre properties and features.