Nokian WR A3
Absolute grip and excellent handling in all winter conditions
Stable and easy to control even at high speeds
Rolls lightly, saving the environment and fuel
The Nokian WR A3 is optimised for efficient cars with a special emphasis placed on the tyre's precise and sensitive driving at higher speeds.  This environmentally friendly premium product feature nanotechnology, canola oil and the solid winter expertise of Nokian Tyres, which guarantee reliable functionality in the typically varying winter conditions of Central Europe.

Nanobase for optimal stability
The sporty Nokian WR A3 has an asymmetrical inside-outside tread pattern that enables reliable grip without compromising high-speed driving properties. The inner shoulder design enhances the removal of water and slush. The Nanobase structure enabled by nanotechnology improves the tyre's steering properties and control when driving in corners, changing lanes and dodging. The tyre has exemplary control properties in extreme situations on both slippery surfaces and roads offering a firm grip. The tread rubber compound, the Cryogenic Canola Compound, is a novel combination of natural rubber, silica and canola oil that optimises winter grip, wet grip and wear resistance in varying temperatures.

The golfball-like Silent Groove Design for a more pleasant response and higher mileage
The semi-round cavities on the sides of the longitudinal ribs, resembling a golf ball pattern, cool the Nokian WR A3 by minimizing the heat emission and make it more durable and safe even at high speeds. This innovation, called Silent Groove Design, also reduces drag and ensures better mileage thanks to lower fuel consumption. Moreover, it successfully minimises the inside and pass-by noise of the vehicle. The Silent Sidewall Technology increases driving comfort. Distinct zone in the sidewall filters the noise and vibration emitted from the road surface through the tyre tread and relays it to the bead area to reduce the noise heard inside the vehicle.

Winter Safety Indicator for added safety and comfort
Flawless winter driving is possible only if the tyres are in good condition. Nokian WR A3 is equipped with the comfort-adding Driving Safety Indicator (DSI) with the unique snowflake symbol, the Winter Safety Indicator. Patented by Nokian Tyres, this standard element located on the tyre's tread blocks indicates the depth of the main grooves in millimetres. The snowflake symbol remains visible until the groove depth is four millimetres. The tyre sidewalls have the familiar info area for tyre pressure recommendations. The right tyre pressure makes steering more accurate, reduces tyre damage and lowers fuel costs.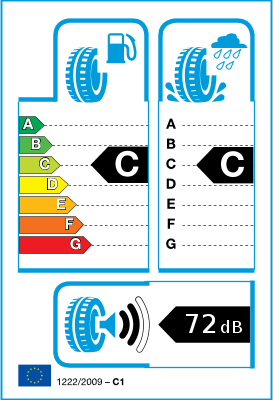 EU Tyre Label and Efficiency Classes
The European Union, under CE 1222/2009, has mandated that all tyres manufactured after the date of July 1 2012 for cars and commercial vehicles include standard EU Tyre Labels classifying them by three performance characteristics:fuel efficiency classified from A to G,wet grip classified from A to G, and noise emission in decibels.
Categories of tyres unaffected by this regulation include: retreaded tyres, professional off-road tyres, racing/sports car tyres, as well as certain types of tyres designed to improve traction such as studded tyres, T-type temporary spare tyres, tyres for cars built before 1990, tyres with a maximum allowed speed of 80km/h, tyres for rims with a diameter less or equal to 254 mm or greater or equal to 635 mm.
This label is intended on one hand to promote economic and ecological efficiency in traffic, as well as increase road safety, and on the other hand to help consumers select appropriate tyres by ensuring a certain degree of product transparency.
Nevertheless, the label has been criticized for only showing a very limited number of characteristics. Professionals argue that tyres have many more features that are important and relevant to road safety, including but not limited to aquaplaning properties, driving stability, service life, product properties on wet and dry roads other than wet grip, properties on snow.
Tyre manufacturers suggest that the test results from various institutions and industry magazines should remain a very important source of information for the end consumer, because they focus on and rate a wide variety of tyre properties and features.