Drawing inspiration from Formula One tire design, Michelin® Pilot® Sport PS2™ tires represent a quantum leap in tire engineering. An excellent choice for your high performance sports car, Michelin® Pilot® Sport PS2™ tires offer unmatched performance characteristics, allowing you to harness the full potential of your vehicle in both wet and dry conditions. Their performance capabilities make them the number one choice of the manufacturers of the world's fastest cars.
The Michelin Pilot Sport ZP (Zero Pressure) is Michelin's Max Performance Summer self-supporting run-flat tire developed to provide temporary continuing mobility in the case of complete air loss due to a puncture for the drivers of Dodge Viper SRT 10 cars. Michelin Pilot Sport ZP tires are designed to providing exotic performance cars with progressive handling, exceptional feedback and refined road manners in the dry while extending their capabilities in the wet. The Pilot Sport ZP's directional tread design features a continuous circumferential center rib flanked by a 'W'-shaped tread pattern. The continuous center rib sharpens steering response and provides communicative road feel while the swept back lateral grooves efficiently evacuate water from under the contact patch to resist hydroplaning and enhance wet traction, while reducing tire noise on dry roads. On the inside, two high-tensile, lightweight steel cord belts, and spirally wrapped nylon cord utilizing Michelin's BAZ (Banded At Zero) Technology improves steering response and resists distortion while enhancing ride quality and high speed durability. Ultra-reinforced sidewalls promote powerful cornering and help maintain the ideal shape of a running tire for better tire/wheel uniformity.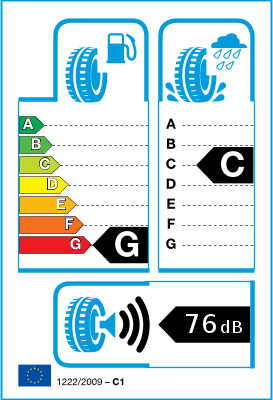 EU Tyre Label and Efficiency Classes
The European Union, under CE 1222/2009, has mandated that all tyres manufactured after the date of July 1 2012 for cars and commercial vehicles include standard EU Tyre Labels classifying them by three performance characteristics:fuel efficiency classified from A to G,wet grip classified from A to G, and noise emission in decibels.
Categories of tyres unaffected by this regulation include: retreaded tyres, professional off-road tyres, racing/sports car tyres, as well as certain types of tyres designed to improve traction such as studded tyres, T-type temporary spare tyres, tyres for cars built before 1990, tyres with a maximum allowed speed of 80km/h, tyres for rims with a diameter less or equal to 254 mm or greater or equal to 635 mm.
This label is intended on one hand to promote economic and ecological efficiency in traffic, as well as increase road safety, and on the other hand to help consumers select appropriate tyres by ensuring a certain degree of product transparency.
Nevertheless, the label has been criticized for only showing a very limited number of characteristics. Professionals argue that tyres have many more features that are important and relevant to road safety, including but not limited to aquaplaning properties, driving stability, service life, product properties on wet and dry roads other than wet grip, properties on snow.
Tyre manufacturers suggest that the test results from various institutions and industry magazines should remain a very important source of information for the end consumer, because they focus on and rate a wide variety of tyre properties and features.